Contact Us
Contact GMEPE/PAHCE Liaison - Click on the blue point, on the map, to link to a preferred location which also covers neighboring countries/regions.
(Note: For GMEPE/PAHCE Profiles of various countries visit - Country Profile)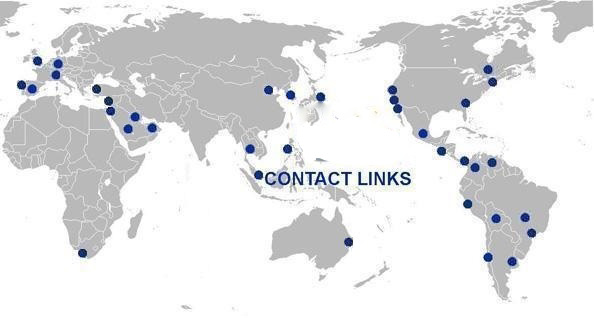 GMEPE/PAHCE 2017
Dr. Alexander Arroyo Núñez (UPChiapas), GMEPE/PAHCE 2017 President
(arroyo[AT]upchiapas.edu.mx)
Dra. Raquel Martínez Valdez* (UPChiapas), Scientific Vice-President*
(rmartinez[AT]ib.upchiapas.edu.mx)
Dr. Francisco A. Ramos Narváez, Medical Area Coordinator
(franciscoramosnarvaez[AT]gmail.com)
Dr. Enrique Tadeo Santoyo (UPChiapas), Communication Director
(santoyo[AT]ib.upchiapas.edu.mx)
Dr. Arturo Vera Hernández (CINVESTAV/IPN) Technical Program Coordinator
*(Any questions in English or Spanish concerning local organizational/logistics issues) (replace [AT] with @ to send your message)

General PAHCE management:
Dr. Lorenzo Leija Salas, GMEPE/PAHCE Co-Editor
Dr. Ron Leder, GMEPE/PAHCE Publications and Publicity Chair
Dr. Fabiano Peruzzo Schwartz, GMEPE/PAHCE Content Coordinator
Dr. Ivonne Bazan-Trujillo, GMEPE/PAHCE Content Coordinator
and other members of the GMEPE/PAHCE Team.
Dr. Antonio Ramos Fernandez, Dr. Enrique Riera F. de Sarabia, Dra. Itziar González Gómez, Javier Eslava Ríos, MS,
GMEPE/PAHCE 2016: President, Organization Vice President, Local Activities Program Vice President, Communication Director. In cooperation with M. Luisa Chapel Gómez, M.Sc. President of the Spanish Society of Medical Physics
MSc. Guillermo Avendaño, MSc. César Galindo, Ing. Germán Blanchard
PAHCE 2015: President, Executive Vice President, and Communication Vice President
Dr. Lourdes Brasil, Dr. Marília Miranda, Dr. Vera Maraes, Dr. Fabiano Peruzzo Schwartz
PAHCE 2014 President; Executive Vice President; Communication Vice President; Scientific Vice President
John Bustamante, MD, PhD; Mauricio Hernández, PhD, Jesús María Soto, MD ESp.
PAHCE 2013 President and Vice Presidents
Dr. Anthony J McGoron
PAHCE 2012 President
Dr. Wagner Coelho A. Pereira, Dr. Bianca Gutfilen, Dr. Lea Mirian Fonseca
PAHCE 2011 President and Co Presidents
Dr. Carlos Silva Cardenas, MSc.Rocío Callupe Pérez, Dr. Benjamín Castañeda
PAHCE 2010 President and Program Chairs
Drs. Lorenzo Leija Salas and Josefina Gutiérrez Martínez
PAHCE 2009 President and Co President/Host
PAHCE 2006 ; PAHCE 2007 ; PAHCE 2008
GMEPE/PAHCE - General Mailing Address:
PAHCE
11278 Los Alamitos Blvd. #123
Los Alamitos, California 90720 U.S.A.
GMEPE/PAHCE Team
International contacts (see interactive map above)
GMEPE/PAHCE Liaisons: Andrei Issakov (Europe/Switzerland); Antonio Ramos (Europe/Spain); Arturo Vera (Mexico); Baset Khalaf (South Africa); Carmen Müller-Karger (South America/Venezuela); Carola Yucra (South America/Bolivia); Emin Sunbuloglu (Middle East/Turkey); Ernesto Suaste (Mexico); Esther Rodriguez-Villegas (Europe/England); Fabiano Schwartz (South America/Central Brazil); Feng Liu (Australia); Guillermo Avendaño (South America/Chile); Hana Husain (Middle East/Kuwait); Honren Liao (Asia/Japan); Ibrahim Duhaini (Middle East/Lebanon); Jackrit Suthakorn (Asia/Thailand); João Tavares (Europe/Portugal); Juan Carlos (Central America/El Salvador); Kátia Neles (South America/Coastal Brazil); Kim Kyeong (Asia/Korea); Luay Fraiwan (Middle East/Jordan); Marco A. Reyna (Northern Mexico); Mario Castaneda (Northern California); Mauricio Hernández (South America/Colombia); Miguel Gutierrez (Asia/the Philippines); Monique Frize (Canada); Nazeeh Alothmany (Middle East/Saudi Arabia); Ricardo Armentano (South America/Argentina); Rocio Callupe (South America/Peru); Tobey Clark (Eastern US); Toh Siew-Lok (Asia/Singapore); Tom Judd (Central US); Yousef Al-Assaf (Middle East/UAE); PAHCE Team (Southern California and all other regions)

Email Address:
pahceadm[AT]pahce.org
(replace [AT] with @ to send your message)
Fax: (646) 514-4569